GB Group (LON:GBG)'s stock had its "buy" rating restated by equities researchers at Peel Hunt in a report released on Monday, December 4th. They presently have a GBX 515 ($6.93) price target on the stock. Peel Hunt's price objective would indicate a potential upside of 23.72% from the stock's previous close.
Several other equities analysts have also weighed in on the stock. Canaccord Genuity restated a "buy" rating and set a GBX 430 ($5.79) price target on shares of GB Group in a research report on Tuesday, October 24th. FinnCap reissued a "buy" rating and issued a GBX 450 ($6.06) price target on shares of GB Group in a report on Thursday, November 9th. Six research analysts have rated the stock with a buy rating, The stock presently has a consensus rating of "Buy" and an average price target of GBX 426.67 ($5.74).
GB Group (LON:GBG) opened at GBX 415.50 ($5.59) on Monday. GB Group has a 1 year low of GBX 270 ($3.63) and a 1 year high of GBX 458.25 ($6.17).
In other news, insider David John Wilson sold 100,000 shares of GB Group stock in a transaction dated Tuesday, November 28th. The stock was sold at an average price of GBX 425 ($5.72), for a total value of £425,000 ($572,005.38).
ILLEGAL ACTIVITY NOTICE: "GB Group (LON:GBG) Rating Reiterated by Peel Hunt" was posted by TrueBlueTribune and is owned by of TrueBlueTribune. If you are reading this news story on another domain, it was stolen and republished in violation of U.S. & international trademark & copyright law. The original version of this news story can be read at https://www.truebluetribune.com/2017/12/13/peel-hunt-reiterates-buy-rating-for-gb-group-gbg.html.
GB Group Company Profile
GB Group plc (GBG) is a global specialist in identity data intelligence. Its segments include Identity Proofing division and Identity Solutions division. The Identity Proofing division provides Identification (ID) Verification, ID Employ and Comply services and ID Fraud and Risk Management Services. It also includes the operations of ID Scan Biometrics Ltd, a provider of software that automates on-boarding of customers and employees by simplifying the identity verification and data capture process.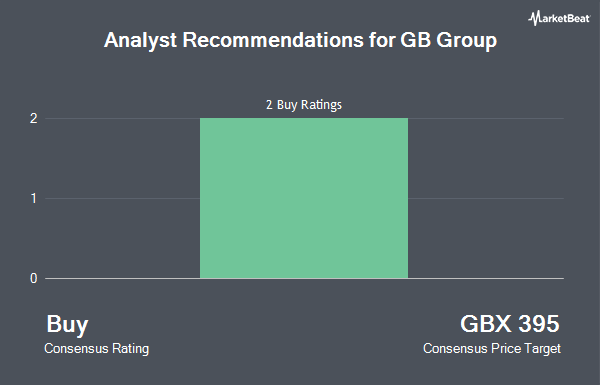 Receive News & Ratings for GB Group Daily - Enter your email address below to receive a concise daily summary of the latest news and analysts' ratings for GB Group and related companies with MarketBeat.com's FREE daily email newsletter.