W.P. Carey Inc. (NYSE:WPC) announced its earnings results on Friday, November 3rd. The real estate investment trust reported $1.37 earnings per share (EPS) for the quarter, beating the consensus estimate of $1.16 by $0.21, Briefing.com reports. W.P. Carey had a net margin of 31.28% and a return on equity of 7.25%. The business had revenue of $210.00 million during the quarter, compared to analyst estimates of $212.72 million. During the same period in the previous year, the business posted $1.34 earnings per share. W.P. Carey's revenue for the quarter was down 6.7% on a year-over-year basis.
Shares of W.P. Carey (WPC) opened at $71.69 on Tuesday. W.P. Carey has a 52-week low of $55.97 and a 52-week high of $71.99. The stock has a market capitalization of $7,589.50, a price-to-earnings ratio of 13.60, a P/E/G ratio of 3.94 and a beta of 0.95. The company has a debt-to-equity ratio of 1.19, a current ratio of 0.35 and a quick ratio of 0.35.
The company also recently announced a quarterly dividend, which was paid on Monday, October 16th. Stockholders of record on Monday, October 2nd were given a dividend of $1.005 per share. This is an increase from W.P. Carey's previous quarterly dividend of $1.00. This represents a $4.02 dividend on an annualized basis and a dividend yield of 5.61%. The ex-dividend date of this dividend was Friday, September 29th. W.P. Carey's dividend payout ratio is currently 174.78%.
WARNING: This story was originally posted by TrueBlueTribune and is the property of of TrueBlueTribune. If you are viewing this story on another domain, it was illegally stolen and republished in violation of United States and international trademark & copyright law. The correct version of this story can be viewed at https://www.truebluetribune.com/2017/11/14/w-p-carey-inc-wpc-posts-earnings-results-beats-expectations-by-0-21-eps.html.
A number of research analysts have issued reports on WPC shares. Ladenburg Thalmann Financial Services reaffirmed a "hold" rating on shares of W.P. Carey in a research report on Friday. Zacks Investment Research cut shares of W.P. Carey from a "hold" rating to a "sell" rating in a research note on Friday, October 27th. Robert W. Baird started coverage on shares of W.P. Carey in a research note on Wednesday, October 18th. They issued an "outperform" rating and a $77.00 price target on the stock. ValuEngine upgraded shares of W.P. Carey from a "hold" rating to a "buy" rating in a research note on Monday, October 2nd. Finally, BidaskClub upgraded shares of W.P. Carey from a "buy" rating to a "strong-buy" rating in a research note on Saturday, August 19th. Two analysts have rated the stock with a sell rating, two have assigned a hold rating, three have given a buy rating and one has given a strong buy rating to the company. The company currently has a consensus rating of "Hold" and a consensus price target of $70.00.
W.P. Carey Company Profile
W. P. Carey provides long-term, sale-leaseback and build-to-suit transactions for companies worldwide, and manages a global investment portfolio. It has two primary business segments. Under the investment management segment, the Company earns revenue as the advisor to publicly owned, non-actively traded real estate investment trusts (REITs), which are sponsored by the Company under the Corporate Property Associates brand name (the CPA REITs) and invests in similar properties.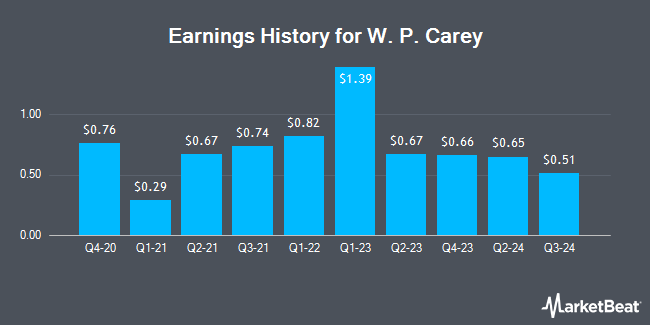 Receive News & Ratings for W.P. Carey Inc. Daily - Enter your email address below to receive a concise daily summary of the latest news and analysts' ratings for W.P. Carey Inc. and related companies with MarketBeat.com's FREE daily email newsletter.