Klondex Mines Ltd (TSE:KDX) – Equities research analysts at Clarus Securities decreased their FY2017 earnings per share (EPS) estimates for shares of Klondex Mines in a note issued to investors on Monday. Clarus Securities analyst J. Spratt now expects that the company will earn $0.10 per share for the year, down from their previous forecast of $0.16.
A number of other equities research analysts have also recently issued reports on KDX. BMO Capital Markets restated a "market perform" rating and set a C$5.00 price objective on shares of Klondex Mines in a report on Tuesday, October 24th. Pi Financial upgraded Klondex Mines from a "neutral" rating to a "buy" rating and boosted their price objective for the stock from C$4.15 to C$4.85 in a report on Wednesday, September 20th. Scotiabank restated a "sector perform" rating and set a C$6.00 price objective on shares of Klondex Mines in a report on Thursday, July 27th. Roth Capital reiterated a "buy" rating and issued a C$5.25 price target on shares of Klondex Mines in a research note on Wednesday, October 4th. Finally, Canaccord Genuity boosted their price objective on shares of Klondex Mines from C$5.50 to C$6.00 in a research report on Friday, September 29th. Two research analysts have rated the stock with a hold rating and six have given a buy rating to the company. The stock currently has a consensus rating of "Buy" and a consensus price target of C$5.69.
WARNING: "Klondex Mines Ltd (KDX) to Post FY2017 Earnings of $0.10 Per Share, Clarus Securities Forecasts" was posted by TrueBlueTribune and is the property of of TrueBlueTribune. If you are reading this story on another publication, it was illegally copied and republished in violation of U.S. and international copyright and trademark laws. The original version of this story can be viewed at https://www.truebluetribune.com/2017/11/14/klondex-mines-ltd-kdx-to-post-fy2017-earnings-of-0-10-per-share-clarus-securities-forecasts.html.
Klondex Mines (TSE:KDX) opened at C$2.90 on Tuesday. Klondex Mines has a 1-year low of C$2.75 and a 1-year high of C$7.73.
In other Klondex Mines news, Director Blair Schultz acquired 25,000 shares of the business's stock in a transaction that occurred on Wednesday, August 30th. The stock was bought at an average cost of C$4.00 per share, with a total value of C$100,000.00.
Klondex Mines Company Profile
Klondex Mines Ltd is a Canada-based gold and silver mining company. The Company focuses on exploration, development and production of over two gold and silver projects in north central Nevada, being the Fire Creek mine located in Lander County, Nevada, the Midas mine and ore milling facility located in Nevada.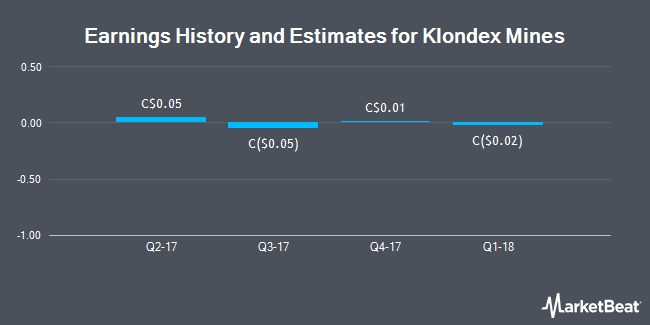 Receive News & Ratings for Klondex Mines Ltd Daily - Enter your email address below to receive a concise daily summary of the latest news and analysts' ratings for Klondex Mines Ltd and related companies with MarketBeat.com's FREE daily email newsletter.